Joseph Farish Jr.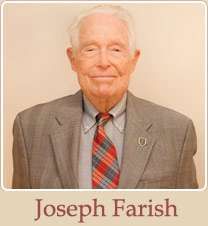 Former owner and operator Joseph Farish Jr. was a noted attorney, philanthropist and decorated World War II veteran.

When the site adjacent to the South Florida VA National Cemetery became available, he immediately sought approval to build Palm Beach National Chapel, noting "This is an important way to give back and serve families in this area and to honor Palm Beach County veterans."
A D-Day survivor, Mr. Farish served with the Big Red One First Infantry Division and also fought in the North African, Sicilian and European campaigns, earning five battle stars. Following World War II, he operated a successful Lincoln-Mercury Dealership and, as a reward for outstanding performance, the Ford Motor Company sent him to Normandy in 2004 to celebrate the 50th anniversary of the D-Day landing.
Long after Mr. Farish's retirement, Palm Beach National Chapel has continued its solid reputation by offering funeral and cremation services at affordable prices without sacrificing premium levels of care and service.